Meze Karotsi at Nostimo
May 18 @ 12:00 pm

-

May 19 @ 6:30 pm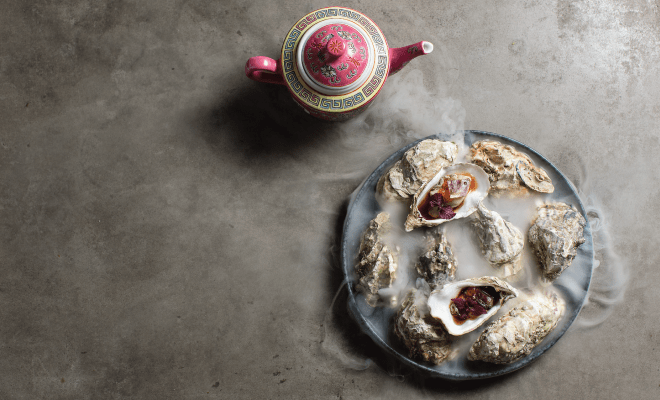 Paniyiri Geek Festival – Saturday and Sunday, May 18 and 19
Over the famous Paniyiri Greek Festival weekend, Nostimo Restaurant will be transformed into Brisbane's first ever Greek Yum-Cha … introducing the Meze Karotsi/Greek Trolley, a style Chef Katrivesis has made famous throughout the world! Diners can enjoy unique Greek meze plates in traditional Yum-Cha fashion, and to add to the authenticity of the event each guest will receive faux Greek currency to use!
This experience is all about sharing! Try a bit of everything with small Yum-Cha style plates featuring Greek classics like our Pork Belly Baklava and Dolmathes as well as some of Chef Katrivesis's signature dishes.
Chef Dimitris Katrivesis is famed globally as a master of Greek cuisine, both traditional and modern, and his CV includes some of the world's very best restaurants. After studying culinary arts in Athens in 1996, his passion for global flavours and learning has taken him from five-time world number one restaurant, the three-Michelin starred El Bulli in Spain, to Luxembourg, Paris and Tokyo where he worked at the acclaimed three-Michelin starred restaurant Ryugin.
He returned to Greece and used his unmatched international experience to create the unique concept JSP, a blend of Japanese/Spanish/Peruvian flavours mixed with his Greek influences. He's the author of "The Real Deal", a book on Peruvian street food and is currently based in Athens, where he leads the famed Fuga Restaurant set in the gardens of the magnificent Athens Concert Hall. It is at Fuga that he perfected Greek Yum Cha, a concept he and Chef Tsirekas will bring to Nostimo Restaurant for the Paniyiri weekend!