Are you looking to dine at one of Brisbane best restaurants?
Our mission is to deliver the best authentically delicious Greek cuisine with a generous helping of exceptional Greek hospitality.
We present to you, our family, a delicious dining experience;
delighting taste, sight, smell and sound with a uniquely Greek flair.
nostimo represents the beginning of a new chapter, while paying tribute to our beginning.
Everything you already love, deliciously renewed and refined.
29 edmondstone street, south brisbane
+61 7 3844 1166
Mon-Fri11.30am – 3.00pm
5.30pm – 9.00pm
Sat:11.30am – 3.00pm
5.30pm – 10.00pm
Sun:11.30am – 4.00pm
Public Holidays:CLOSED









Menu
Aperitif from Greece
| | |
| --- | --- |
| Ouzo San Rival, Piraeus | 7 |
| Ouzo Veto, Lesvos | 7.5 |
| Ouzo Barbayianni Blue 43%, Lesvos | 7.5 |
| Idoniko Lazaridi, Aniseed Tsipouro, Drama | 7.5 |
| Katsaros Tsipouro, Tirnavos | 7.5 |
Nostimo Banquet
Designed to be enjoyed by the whole table & large parties exceeding 12 guests (Minimum 4 guests)
58PP
To Start
Mixed dips & pita bread, Horiatiki
Saganaki with caramalised figs and candied walnuts
Dolmades
Fried calamari with ouzo mayonnaise
To follow
Lamb Skaras – lamb forequarter pieces cooked on charcoal grill, wilted spinach, herb yoghurt
Chips with kasseri
Dessert
Bougatsa of Thessaloniki – Baked semolina custard wrapped in filo with strawberry coulis and macerated berries
Menu
Olives 3 Ways
Kalamata olive tapenade, green olive butter, mixed marinated greek olives, pita bread
AGF/ADF
12
Dip & Pita
Tarama White roe caviar
Tzatziki Yoghurt, garlic, cucumber, carrot
Tyrokafteri Feta, ricotta, red peppers
OR all three
AGF
12
Melitzanokeftedes
Eggplant feta fritters
V
17
Haloumi Filo
Heirloom tomatoes, truffle honey
V
16
Saganaki
Kefalograviera with caramalised figs and candied walnuts
GF/V
15
Vine Dolmathes
Mixed vegetable and herb rice filling with egg-lemon sauce
GF/V
16
Ancient Salmon
Cured in ouzo, lemon zest and pepper, smoked skordalia, mulberry, blackberry, fish sauce, honey, shaved fennel
GF/DF
22
Octopus
Charred with pickled vegetables and warmed split pea puree
GF
24
Fried Calamari
Lightly dusted in rice flour with ouzo mayonnaise
GF
16
Swordfish Kalamaki
Mini swordfish skewers with braised mixed beans
GF
17
Nostimo Fried Chicken
Twice fried mini chicken drumettes with a spicy grape must glaze and skordalia
GF
14
Chicken Souvlaki
With roasted Florina peppers, scordalia
GF/DF
17
Pork Belly Souvlaki
Skewered pork belly with mustard mayo and a tomato, onion and parsley salad
GF
18
BBQ Kefte
Spiced pork and beef mince served with strained fresh Greek yoghurt and rich tomato sauce
GF
16
Hortopita
Whole filo pie of wild greens, leeks, rice herb filling
VG
22
Pork Belly Baklava
Roasted pork belly, pistachios, dates, pork crackling, date mustard mastiha sauce
20
Gemista
Vegetable and herbed rice stuffed roasted tomatoes with roasted potatoes
GF/VG
25
Moussaka tou Agrou
Lentil and sweet potato moussaka
V
26
Pan Roasted Fish Fillet of the Day
With savoro salad of onion, shallots, currant, fennel, mint, coriander, chilli, grape, orange, apple cider vinegar citrus dressing
Ask our staff what is on offer today
GF/DF
Market
Price
Whole Roasted Fish of the Day
With a mixed herb salad and an olive oil lemon emulsion
Ask our staff what is on offer today
GF/DF
Market
Price
Lamb Skaras
Lamb forequarter pieces cooked on charcoal grill, wilted spinach, herb yoghurt
GF/ADF
35
Pork Neck Kondosouvli
Kale fricasee, apple and date ouzo relish
GF/ADF
29
Brizoles
Thinly sliced T-bone steaks, roasted red pepper puree
GF
28
Sides
Watermelon Salad
Manouri cheese, candied walnuts, fresh oregano leaf, grape must vanilla dressing
V/GF
12
Horiatiki
Tomato, cucumber, Spanish onion, kalamata olives, red capsicum, radish, oregano, extra virgin olive oil, apple cider vinegar and feta
V/GF
15
Politiki Salata
Savoy purple Chinese cabbage, carrot, green apple, graviera, dried currants, spicy roasted corn, toasted almonds, mustard mayonnaise, mixed fresh herbs
AVG/GF
13
Horta
Wilted wild greens, lemon dill, olive oil
VG/GF
8
Chips
With oregano
GF
10
Make it Vromiko 2.0:
With smoky metsovone cheese and Fix beer sauce, pickled cucumbers, fresh oregano
Add 5
Patates Sto Fourno
Oven baked lemon oregano potatoes
VG
8
String Beans
Steamed with toasted almond, preserved lemon and chilli tossed with dill and olive oil
GF/VG
8
Dessert
Samos and Saffron Poached Pears
With chocolate tahini mousse and toasted tsoureki bread
V
14
Ekmek Kataifi
Kataifi pastry, custard, whipped cream and a hint of mastiha
15
Passionfruit Bougatsa
Passionfruit semolina custard wrapped in crispy oven baked filo served with passionfruit syrup
15
Rizogalo
Rice pudding with poached quince
GF
15
Caramel Baklava Ice Cream
Layered with vanilla bean ice cream, caramel fudge and baklava nuts
GF
15
Greek Petit Fours
Ask our staff what is on offer today
10
GF gluten free / AGF available gluten free / DF dairy free / V vegetarian / VG vegan
Express Lunch Banquet – $30 PP
AVAILABLE MONDAY – SATURDAY
Designed to be enjoyed by the whole table & large
parties exceeding 10 guests. (Minimum 4 guests)
Mixed dips & pita bread
Horiatiki salad
Saganaki with caramalised figs and candied walnuts
Lamb Skaras – Lamb forequarter pieces cooked on charcoal grill,
wilted spinach, herb yoghurt
Chips with kasseri
Rizogalo Dessert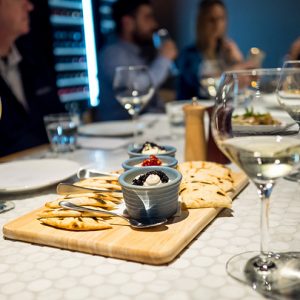 Seating up to 12 people, indulge in an exclusive dining experience of modern Greek flavours from Chef In Residence, renowned David Tsirekas.
Surrounded by thousands of cascading worry beads, fine wines and modern decor, this space is perfect for a lunch time meeting or a special occasion dinner. Minimum spend of $1,000. Bookings essential.
This room cannot be booked online – please call our friendly team on 07 3844 1166 who will be happy to assist you.
Drinks
Kir Floral
Fiorente elderflower liqueur, hibiscus flower, sparkling wine15
Pimm's on Tap
Pimm's and ginger ale, fresh strawberries, orange, cucumber8
Mastiha Fizz
Skinos mastiha liqueur of Chios, Ketel One Citroen vodka, fresh lemon juice, lemonade16
Southern Sunset
Southern comfort, Disaronno amaretto, grenadine, fresh orange juice16
Maple Walker
Johnnie Walker black label, Kings ginger liqueur, maple syrup, dash of lime juice, pickled ginger17
Pomegranate Mojito
Pampero Blanco rum, muddled lime, Pama, fresh pomegranate, gomme, mint, soda,17
Lychee Martini
Smirnoff Red vodka, muddled lychees, pineapple juice, Paraiso lychee liqueur, Chambord17
Ouzo Quencher
Metaxa ouzo, Cointreau, mango puree, Schweppes blood orange16
Strawberry Cream
Tanqueray gin, Mozart white chocolate strawberry cream, cream, fresh strawberries, soda18
Coconut Alexander
Metaxa brandy seven-star, creme de cacao, star anise, coconut cream, cinnamon gomme17
Vanilla Espresso Martini
Captain Morgan spiced rum, Baileys, espresso, vanilla gomme17
beer on tap
| | | sml | lrg |
| --- | --- | --- | --- |
| Asahi Super Dry | Japan | 9.5 | 12.5 |
| Peroni Nastro Azzurro | Italy | 8 | 13 |
| Coopers Light | Adelaide | 4 | 5.5 |
| Peroni Leggera 3.5% | Italy | 6 | 10 |
| Mt. Goat Steam Ale | Melbourne | 6 | 9 |
| Coopers Mild Ale | Adelaide | 5.5 | 7.5 |
| Big Head | Burleigh | 5 | 7 |
bottled beer
| | | | |
| --- | --- | --- | --- |
| Mythos | Lager | Thessaloniki, Greece | 6 |
| Fix Hellas | Lager | Evia, Greece | 7 |
| Vergina | Lager | Macedonia, Greece | 7.5 |
| Volkan Blonde Pilsner | Pilsner | Santorini, Greece | 8 |
| James Boags Premium | Lager | Launceston, TAS | 7 |
| Crown Lager | Lager | Melbourne, VIC | 8.5 |
| Corona | Lager | Mexico | 7.5 |
| Boags Light | Lager | Launceston, TAS | 5.5 |
| XXXX Gold | Lager | Brisbane, QLD | 5.5 |
| Heineken | Lager | Amsterdam, Holland | 7.5 |
| 1664 Kronenbourg Blanc | Blanc, Wheat | Strasbourg, France | 7.5 |
| Pilsner Urquell | Pilsner | Czech Republic | 8 |
| Rogers, Little Creatures 3.5% | Amber Ale | Fremantle, WA | 7 |
| James Squire, The Chancer | Golden Ale | Sydney, NSW | 7.5 |
| White Rabbit Pale Ale | Pale Ale | Geelong, VIC | 8 |
| 150 Lashes, James Squire | Pale Ale | Sydney, NSW | 7.5 |
| Mt. Goat, Pale Ale | Pale Ale | Melbourne, VIC | 8 |
| Two to the Valley, Newstead Brewing Co | IPA | Brisbane, QLD | 11 |
| Asahi Super Dry Black | Dark Ale | Japan | 9.5 |
| Best Extra Stout, Coopers | Stout | Adelaide, SA | 8 |
| Somersby Apple Cider | Cider | Denmark | 6.5 |
| Somersby Pear Cider | Cider | Denmark | 6.5 |
Wines by the Glass
| | | | |
| --- | --- | --- | --- |
| Artis White, Alexakis | Vidiano, Moscato | Heraklion, Crete | 7 |
| Chain of Fire S.S.B. | S. Blanc – Semillon | Western Australia | 7 |
| Pikorua, Sauvignon Blanc | Sauvignon Blanc | Marlborough, NZ | 8 |
| Retsina Basis | Savvatiano | Attica, Greece | 8 |
| Skouras Cuvee Prestige White | Moschofilero – Alpeou | Mantinia | 9 |
| Robert Oatley, Signature | Chardonnay | Margaret River, WA | 10 |
| AXIA, Alpha Estate | Malagousia | Florina | 11 |
| Rose La Comtesse, Mirabeau | Syrah – Grenache | Cote de Provence, FR | 10 |
| Rose by Katogi Averof | Xinomavro | Metsovo, Greece | 12 |
| Kotsifali, Artis Alexakis | Kotsifali | Heraklion, Crete | 7 |
| Chain of Fire Shiraz Cab | Shiraz – Cabernet | South Australia | 7 |
| Pocketwatch, Cab Sauvignon | Cab. Sauvignon | Central Ranges | 8 |
| Enotria, Douloufakis | Liatiko, Kotsifali, Syrah | Heraklion | 9 |
| The Strapper, Yalumba | GSM | Barossa, SA | 10 |
| Geometria, Lafazanis | Agiorgitiko | Nemea | 10 |
| Paranga Red Macedonia | Xinomavro, Merlot, Syrah | Amyndeon | 11 |
| Montrose Black Shiraz | Shiraz | Mudgee, NSW | 11 |
| Tsapournakos, Voyatzis | Cabernet Franc | Velvento | 12 |
Assyrtiko is a multi-purpose variety which maintains its acidity as it ripens. It is similar in character to Riesling, and is mostly island-based, being a native variety of the island of Santorini where it's planted on volcanic soil and produces wines with stunning aromatics, minerality and high acidity.
Athiri is a lower acid and alcohol variety and one of the most ancient. Originally from Santorini, it is now planted in Macedonia, Attica, and the Aegean islands.
Debina is a thoroughbred Greek white wine grape primarily grown on the hilltops of Zitsa region of Ioannina. Delicate, crispy and high in acidity, Debina lends itself to sparkling wine production.
Lagorthi is a well-known variety despite its fairly small planting. It produces a moderately aromatic wine with relatively low fruit and alcohol content. The variety is grown in only a few vineyards, mainly in northern Peloponnese and on some Ionian Islands.
Malagousia is a grape growing mainly in Macedonia, with a special aroma leading to elegant full-bodied wines, with medium-plus acidity and exciting perfumed aromas.
Moschofilero is a Blanc de gris variety from the region of Mantineia, in Arcadia in the Peloponnese. Its wines offer a crisp and floral character in both still and sparkling styles.
Robola is most grown in the mountainous vineyards of the Ionian Island of Cephalonia. It has a Smokey mineral and lemony character, excellently complementing seafood.
Roditis (the "pink" or "rose" grape) is a grape that is very popular in Attica, Macedonia, Thessaly, and the Peloponnese. This variety produces elegant, light white wines with citrus flavours.
Savatiano (the "Saturday" grape) is the predominant white grape in the region of Attica, where it displays excellent heat resistance and shows a distinct floral and fruity aroma when cold fermentation is practised. When fermented without cooling, it produces Retsina or rustic unresinated wines.
Agiorgitiko ("St. George's [grape]") is a variety native to Nemea that grows mainly in the Peloponnese area, producing a soft, low acidity, fruity red in many styles. Its sensory attributes compare closely with merlot.
Kotsifali is mainly grown in the Heraklion regional unit of Crete and sporadically on the Cyclades. Single varietal wines bear all the hallmarks of traditional "Southern Mediterranean" wines: moderately red colour, relatively high in alcohol, with smooth tannins and soft acidity.
Limnio, or Kalambaki is an important red grape variety that is indigenous to the Aegean island of Lemnos and has been used in red wine production for more than 2000 years. As a varietal wine Limnio is full-bodied, high in alcohol and very herbaceous, with a distinctive taste of bay leaves.
Mandilaria, also known as amorgiano, is mainly cultivated on the islands of Rhodes and Crete. It produces sturdy wines with saturated colour and robust tannic qualities that require some ageing to temper their mild astringency. Typically, Mandilaria is ideally suited as the blending partner of the Kotsifali grape.
Mavrodaphne, or "black laurel", is a variety that grows in the Peloponnese and the Ionian Islands. It is blended with the Black Corinth currant grape to produce a prized fortified dessert wine made in the Solera style.
Vertzami is a single-varietal wines produced on the Ionian island of Lefkada. Wines from Vertzami have an exceptionally dark and deep red colour, and possess significant aromatic intensity and a very particular aroma and taste profile of Eucalyptus and Cedar with notes of dark fruit and hints of oak.
Xinomavro ("sour black") is the predominant grape variety in Macedonia, cantered on the town of Naoussa. This variety has great aging potential with a palate reminiscent of tomatoes and olives, and a rich tannic character. It is often compared to Nebbiolo.
29 edmondstone street, south brisbane qld 4101
po box 5067, south brisbane qld 4101
Mon-Fri11.30am – 3.00pm
5.30pm – 9.00pm
Sat:11.30am – 3.00pm
5.30pm – 10.00pm
Sun:11.30am – 4.00pm
Public Holidays:CLOSED