You might have heard us boasting that we're Brisbane's most stylish destination for Greek dining. That's because our fresh look was expertly designed by highly awarded Brisbane based firm, KP Architects, and executed by Rohrig Constructions. Each element of 180 seat restaurant is a modern taste of the Greek Islands right here in Brisbane.
Our white rendered wall perfectly capture the iconic image of Greece and are even finished in the same white-set plaster as used in the islands as opposed to being painted white. The white allows the beautiful finishes and textures of the décor to shine. One of our favourite elements of the entire restaurant are the Santorini blue cedar doors which line the corridor to the terrace. If you have been to Greece, this blue will immediately take you back to days spent by the Mediterranean.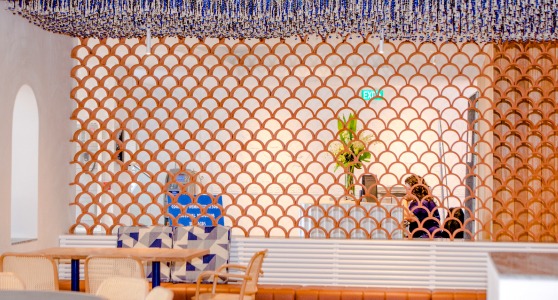 A staggering 15,000 cascading komboloi (Greek worry beads) line the ceiling about our booth seating, entrance and private dining room. The komboloi is representative of the Greek easy-going mentality and is used as a recreational pastime. Beneath the hanging komboloi, our feature wall of arched terracotta tiles offers diners a window into the Grand Foyer of The Greek Club. The soft terracotta leather of the booth seating beautifully ties in with the tile finishes and the scattered cushions reflect the blues, whites and greys of the komboloi above.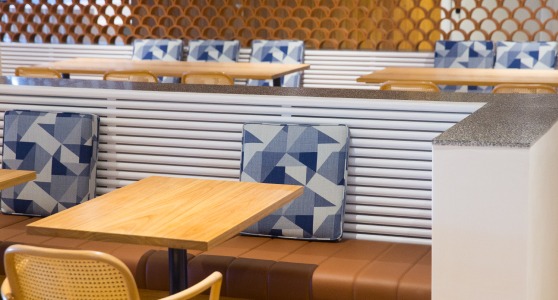 Beautiful hardwood floors, dark terrazzo bars and thatched ceilings bring the entire look together. You'll feel as though you're in the heart of Greece even before you've tried our authentic Greek cuisine. Add a signature cocktail, some meze to share and watch our traditionally trained Chefs prepare an authentic Greek feast through the open servery. Welcome to the Greek Isles. Welcome to Nostimo Restaurant Bar.